There are many free online SEO backlink checking tools that will give you pretty good insights into all your backlinks. To be honest the list goes well above 100s free different SEO backlink analytical checking tools. (more SEO tools here)
We have decided to talk about one of the most used and respected apps named Ubersuggest by Neil Patel, it's one of the most used SEO app/online programs by far and has grown dramatically in the last few years.
Checking for backlinks on Ubersuggest is super easy and effective, backlink data is shown in an easy to follow chat and graph view.
Simply enter the domain name and click on a search under the backlinks.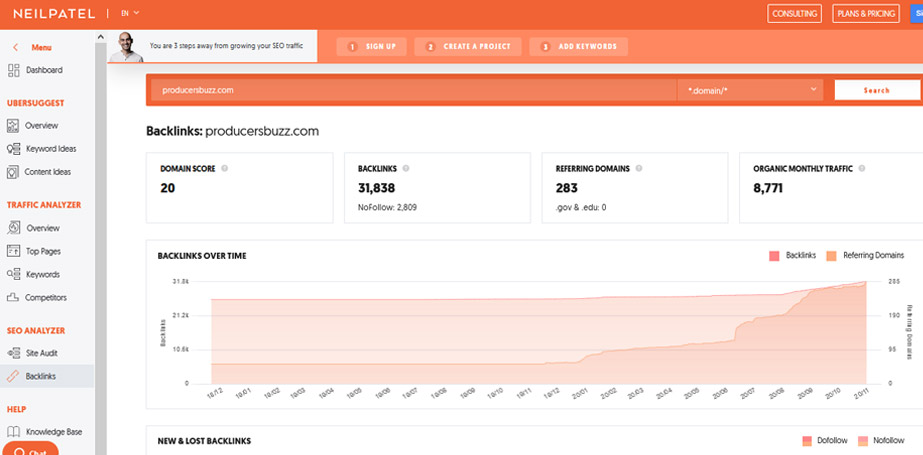 Neil Patel Ubersuggest also demonstrates Dofollow and Nofollow New and Lost backlinks in a time graph shown below;
The best part is, it's all free to use!
Is Ubersuggest by Neil Patel worth trying? Yes, it's 100% worth giving it a go!
Now let's have a look at how can we target better SEO keywords using the tool on Ubersuggest by Neil Patel.
Just by entering the keyword or domain name, full analytical data on keywords and keyword overview can be exported into a CSV file which can be opened by Excell.
Just by simply typing in your competitor's domain names, you will be able to view their full SEO keyword analysis, (located on the left-hand side box)
Then when you select any specific keyword from the left-hand side, (on the right-hand side box) you will be able to view all the websites which rank for this specific keyword from 1 being the top and all way to 1000+ rank.
For example, this was test CSV export done on keyword "FL Studio"
This will give us a bigger overview of all pages ranking for specific keywords.
By contacting some of your competitors and getting backlinks from them would help your page rank higher, so do reach out and see if you can get a backlink from any of these pages.
So there you have it, free SEO keyword analysis tool and also free backlinks tool all by Neil Patel Ubersuggest