In this quick guide, we will demonstrate the most effective yet the simplest way to identify and remove toxic backlinks affecting your SEO and website rankings in a negative way. Removing all toxic backlinks will have a positive ranking effect on your website and allow your website to rank higher which will lead to more organic search traffic.
We will use Semrush and set-up a free toxic backlink audit project
Scan & Identify toxic backlinks in Semrush
Create and export disavow file
Upload disavow file to google search console
Using SEMrush to set-up a free backlink project
1. You will need to go to www.semrush.com and create a free account, you will be asked if you wish to start a free trial on "Pro Account", you can get pro if you wish to get extra benefits, but you can simply click on "skip trail".
2. You will be asked to "select your area of interest". On this step you will need to click on "Skip This Step".
3. You will need to select "Projects" on the right-hand side menu, and then click on the green button on SEMrush project displaying text saying "Add new project" we have also highlighted this in red below;
4. You will need to enter the "project domain" as SEMrush will add to your projects for tracking, you will also need to give your project a name, as you can see below. We will be removing toxic domains for www.sfxbuzz.com. Once you complete the project domain and project name (use your own website domain) simply click on the green button saying "Create Project" to proceed to step 5.
5. You will now see your SEMrush project setup as shown below, you will need to click on the blue text displaying your domain name (highlighted in red). (We used sfxbuzz for this example, but here you should see your own domain you wish to remove the toxic backlinks and audit them for the future)
6. You will now see your main website domain project setup in SEMrush. We can now move to the next section of scanning & identifying toxic backlinks in Semrush. (Would be ideal if you saved or bookmarked this page for future use within your browser, click here for info on how to bookmark a page)
---
Scan & Identify toxic backlinks in Semrush
7. In this section, we will teach you and cover how to run and scan for Toxic backlinks. First, you will need to click on the blue button saying "Set Up" under the backlink Audit in Semrush. (highlighted in red below)
8. You will now need to select campaign backlink scope in SEMrush, simply leave it as it is and click on the green texted button at the bottom saying "start backlinks audit". (highlighted in red below)
9. SEMrush will now scan all your backlinks and give you a full overview of all backlinks and their toxicity levels. This is probably the best time to make yourself a tea or coffee as this scanning process can take 10 to 30 minutes.
10. After the scan is complete, you will be able to see the results shown on the page, as you can see we have 0 toxic backlinks and 0 potential backlinks of sfxbuzz, this is great news as sfxbuzz website has all green and healthy backlinks. In this case, we will use a different domain to show you guys how to remove toxic backlinks. If you have 0 toxic domain and 0 potentially toxic domains we would still recommend you check all the backlinks and add them to your allow audit list "whitelist" within SEMrush. We will now run the whole step again but with a different domain name, which will show us some toxic backlinks, so that we can demonstrate how to block and disavow bad toxic backlinks how to allow and whitelist good backlinks.
11. We will re-run the scan again with a different domain, of course, you won't have to repeat this step if you have already had toxic backlinks, if you never had any toxic backlinks, we would still recommend you to check your backlinks and whitelist them, this way you can easily track your toxic backlinks in the near future of your project/domain.
As you can see we have re-run the toxic backlink scan with a different domain producersbuzz.com, and the results were shocking, overall there are 68 toxic domains and 43 potentially toxic domains that we will need to review and check. Simply click on the green button at bottom of the page which says "go to results". (highlighted in red below)
12. You should now see the backlink audit page, on the left-hand side, you will be able to see the overall toxicity level is set to high, you will be able to check and remove all toxic domains by simply clicking on the red number "68" which will take you to our next step, which is to view all toxic domains where we will add the toxic domains to a disavow area, we will later export and upload disavow file to google (Disavow Links Tool – Google Search Console)
13. You will now see the same table as shown below (image), you will see a red highlighted circle (drawn by us), you can click on this link which will show you the website directly linking to your webpage, that's if you wish to audit the webpage first before blocking/disavowing it. It shows that this first link has a toxicity level of 100, this is very bad for rankings, simply on the right-hand side select the disavow icon (highlighted by the red square) and click on it, this will move the backlink to the Disavow list.
14. You will then get a small prompt box show up, simply select "domain" to block the whole domain (This will disavow all pages linking to you from this domain), and then click on the "move to disavow" button. Repeat this process on at least 3 more highly toxic backlinks.
15. Below you will see that we have now added the first 3 toxic backlinks to the disavow list within SEMrush, the "add to disavow icon" located on the right has now become slightly transparent showing us that it has been added to the disavow list. Also, there is a red cross at the start of the backlink (3 red crosses highlighted in red) which shows us that these links have been added to the disavow list, this red cross cant is clicked on and it's only for our visual information.
16. Now we will add the first 10 toxic backlinks to the disavow list, you will then see that on the free version on SEMrush you can only view the first 10 results, please don't panic, you do not need to purchase the full version or start your free trial. You will need to simply update your disavow list and this will clear the first 10 results we have blocked.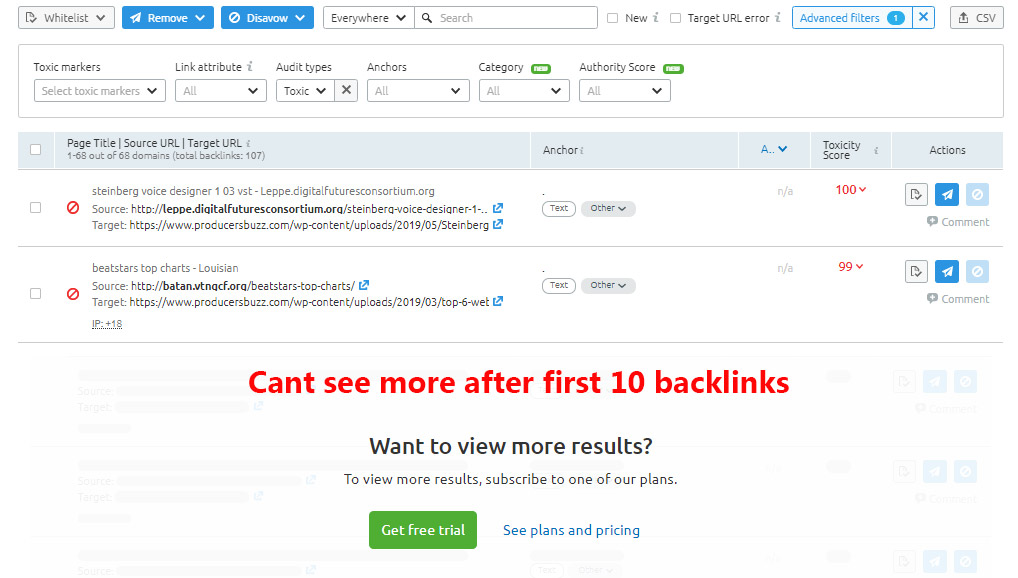 17. To clean up your disavow list and toxicity level of your first 10 blocked domains, you will need to click on top at "disavow" and then select the green button saying "export to TXT" you can save the text file but do not worry about uploading anything to google at the moment, because we have not finished adding all the toxic backlinks to out disavow list yet.
18. Once you click on export you will see this page below (check image), don't worry about uploading anything to google console yet, simply click on the green button with text saying "done" (highlighted in red), this will free up space on your main audit page, meaning you will be able to see next 10 toxic domains/URLs. [Right at the bottom of the page you will see a text file (highlighted in red) which has just been downloaded, you can ignore this for now until your finished]
19. Once you click "DONE", you will see this prompt box, meaning your toxicity score is recalculated, simply click ok on this prompt box or ignore it as it will disappear on its own.
20. Now we go back to "overview" at the top, click on "Overview" (highlighted in red) we will see that toxic backlinks are now -10 less then they were before, if you had less then 10 toxic backlinks then you're quite lucky. We will now need to repeat the process from "Step 12″ all the way through to "Step 19" to clean up another 10 backlinks, do this until all your toxic backlinks are down to 0, also please don't worry as all disavow backlinks will stay in your disavow export database in SEMrush forever, meaning you can always export all of the disavowed domains at once, but only once your actually finished analyzing all your domains. Also, we need to check all the "potentially toxic domains" as-well. (These are the orange domains, they could be or don't have to be toxic, that's actually up to us to decide).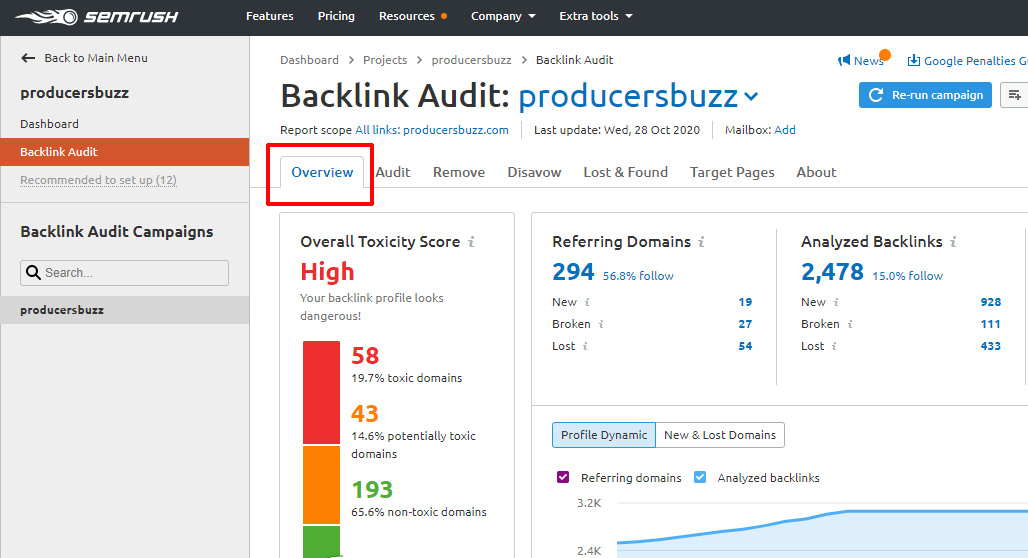 21. We have now repeated all the steps from "Step 12" to "Step 20" over and over again until we added all 68 toxic domains into the disavow list. It can take a bit of time since on the free version of SEMrush we are actually limited to see only 10 results at once, but with a bit of patience and a vast amount of clicking, it's a piece of cake. As you can see our toxic domains are now down to 0 on the red. We did repeat the process from step 12 to step 20, 6 times.  (As you can see in the image below we have now got low toxicity level removing all toxic domains and taking no chances with them since they have a negative impact on search engine results, we will still need to submit this list to google console, under disavow section)
22. We still have 42 potentially toxic domains that we will need to audit manually and make our decision if their toxic or not. So let's click on the Orange number "42" (highlighted in red), (in your case this might be a different number). Let's check the domains manually, we are very close to exporting and submitting the disavow list to Google.
23. Now Depending on how many potentially toxic backlinks you will have you will need to review all these orange backlinks manually, you can view all the pages and decide if you like the backlinks (highlighted in the green box).  The best way to determine if the website is toxic or not is to look at the website Authority Score and toxicity level, if the website authority score is above 30, this is a good indicator that the website is potentially a good website, but always double-check the webpage and check toxicity level, anything with toxicity below 50 needs to be checked and audited, in this case, we have disavowed all backlinks which had Authority Score below 30 and added them to our disavow list for latest export.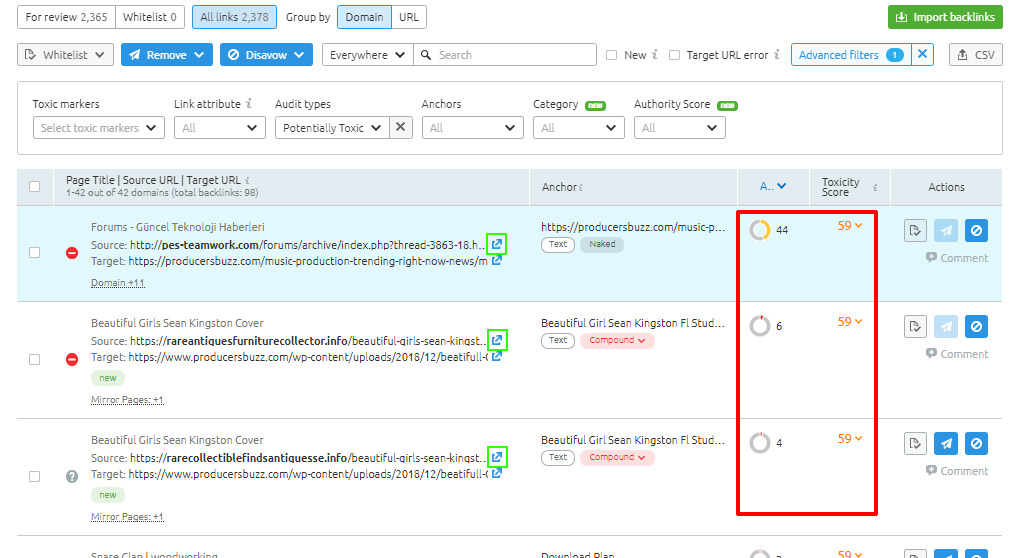 24. Any good domains you want to add them to the whitelist. These are good domains and for your reference, these are kept in the whitelist folder.  You can always review your whitelist folder the same as your disavow folder and remove any domains, they will simply go back into the audit page where you will have the chnace to audit them again. In this case, we have whitelisted this domain below with a toxicity level of "59" this domain had an Authority Score of 44 which is a good indicator for us that this website is not a spam website and the backlink would help us gain better website authority number ourself. It did however have other irrelevant stuff on the page, but we simply ignored that because we only cared about the authority score at this point. Simply click on the "move to whitelist icon below" highlighted in red. you will receive a prompt box again, asking you if you would wish to whitelist URL or domain name again, always select the whole domain when you receive any prompt boxes.
25. Continue this step until you have fully whitelisted all potentially good toxic domains and disavowed any bad potentially toxic backlinks. Don't forget once you reach your 10 limits per page just, you will need to jump to "steps 12 to 20" again to open up more space in your viewpoint. When you're finished, you will see all the domains you have whitelisted, which in our case its "2", will still show up in orange in toxic viewpoint, but these are good domains as we have already checked them.
When we click on these 2 potentially toxic domains, we have already reviewed them, but as you can see from the image below they have a green tick before them meaning the link has been whitelisted and you can simply ignore this.

26. You can view all of your whitelisted domain by simply clicking on "audit at the top and then selecting the whitelist tab (highlighted in red on the image shown below). We are now ready to go to our export steps page and export our final disavow list for the google search console.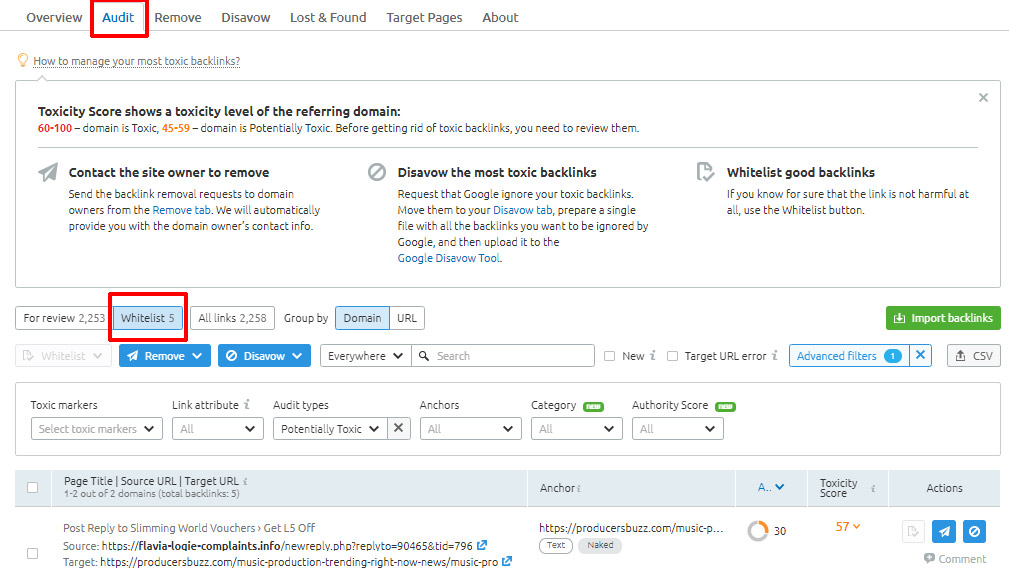 Create and export disavow txt file for google search console
27. At the top select Disavow on SEMrush and then select the green button saying "Export to TXT" This will be our final export for google. (we can go back and check all of our green backlinks before doing this step, but for now, we would just leave them as they are because they're not potentially toxic and are marked as green giving us green lights for good backlinks. But of course, we can go back and check all of the green backlinks and disavow any that may seem like spam, but be very careful as some of these backlinks maybe good backlinks which help you rank better, and disavowing them may lead to bad search engine rankings and decrease in traffic, always check the Authority Score as this has an impact on your websites average authority score)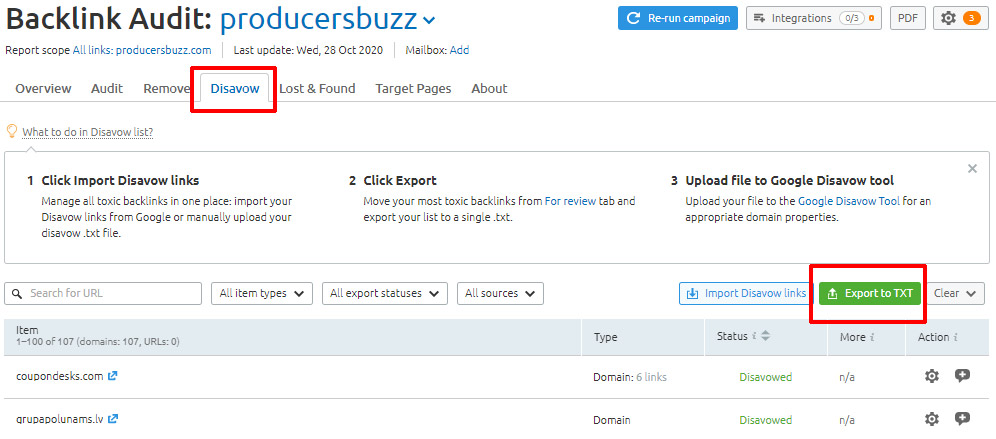 28. We have now exported/downloaded our final disavow text file, this will be located in your download folder, Your documents > your Downloads on your computer.
Once we open the text file this is what we should see inside of it (link is shown below), of course, you guys would have different domain names as to what we have depending on how many toxic domains you have disavowed.
Click here to open an example of our text file yours should look very similar and have your own domain names inside of it.
We have now so far successfully located and audited toxic domains inside SEMrush, we have learned how to whitelist potentially toxic domains based on websites Authority Score and websites content, we have also learned how to export and download disavow text file. now onto the last step, we will learn how to upload this text file to the google search console. 
Uploading disavow file to google search console
29. If you have already got google search console, you can simply skip this step and go to step 35, if you haven't got google search console, please go to https://search.google.com/search-console/about and register for free, click on start now, also continue to step 30.
30. The you will need to click on google search console to get the search property menu bar come out, then click on the search property tab and select "add property"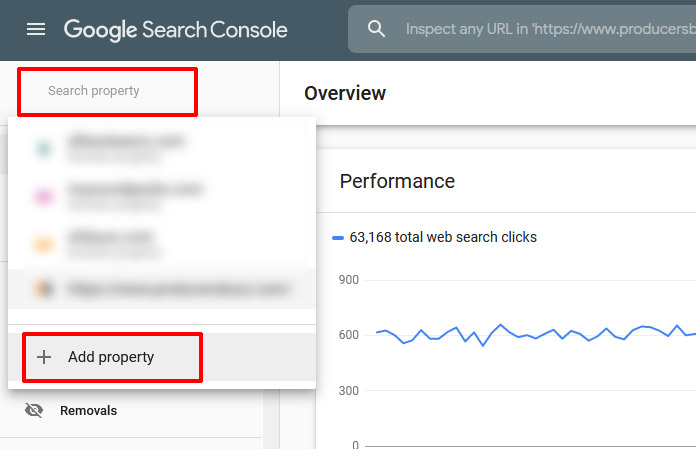 31. You will then need to add a domain to the google search console, This will be the same domain name you have just audited inside SEMrush. Add your domain name and click on "continue". (highlighted in red below)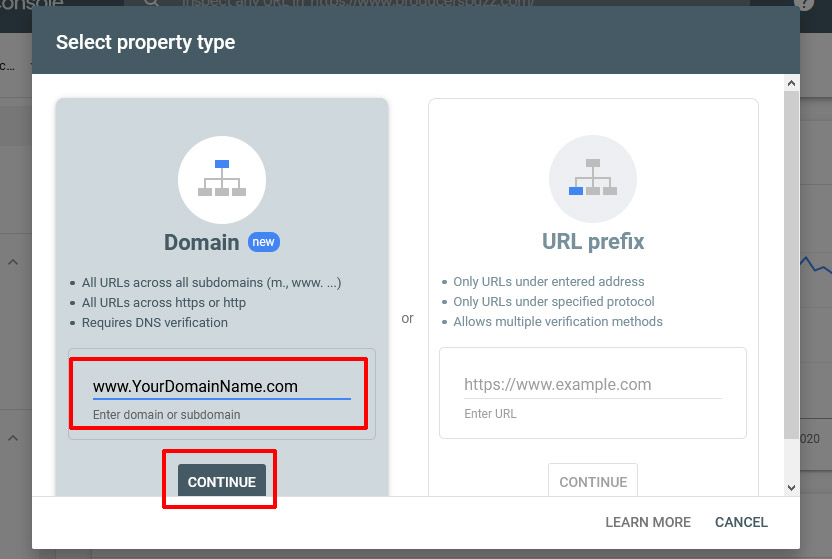 32. You will need to verify your google search console account that you own your website, this is to prevent other users from viewing your info, you will have a small code which you will need to add to the DNS settings of your domain, a TXT file, this may sound complex but trust us, it's very simple and easy to do, you will need to open your web hosting and click on domain DNS setting info if you have issues with this, don't panic, contact your web hosting support team and tell them that you wish to add "TXT record for your DNS" also let them know which domain name your adding this DNS TXT record file too so that your web hosting support team can help you set this up correctly. Otherwise, if you understand this step simply add your TXT record for your DNS within your web hosting provider.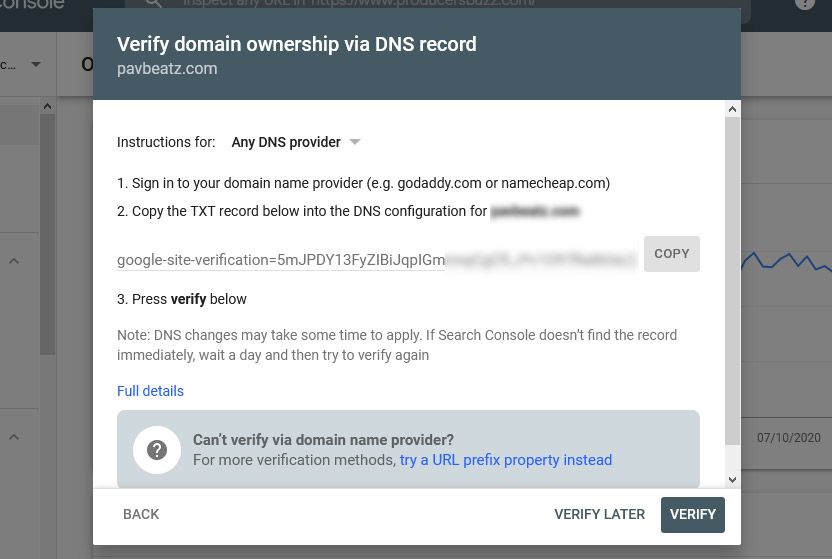 33. We have used Cloudflare so we added our domain in Cloudflare, added TXT type of record, simply copied and pasted google verification code into our domain DNS records TXT file.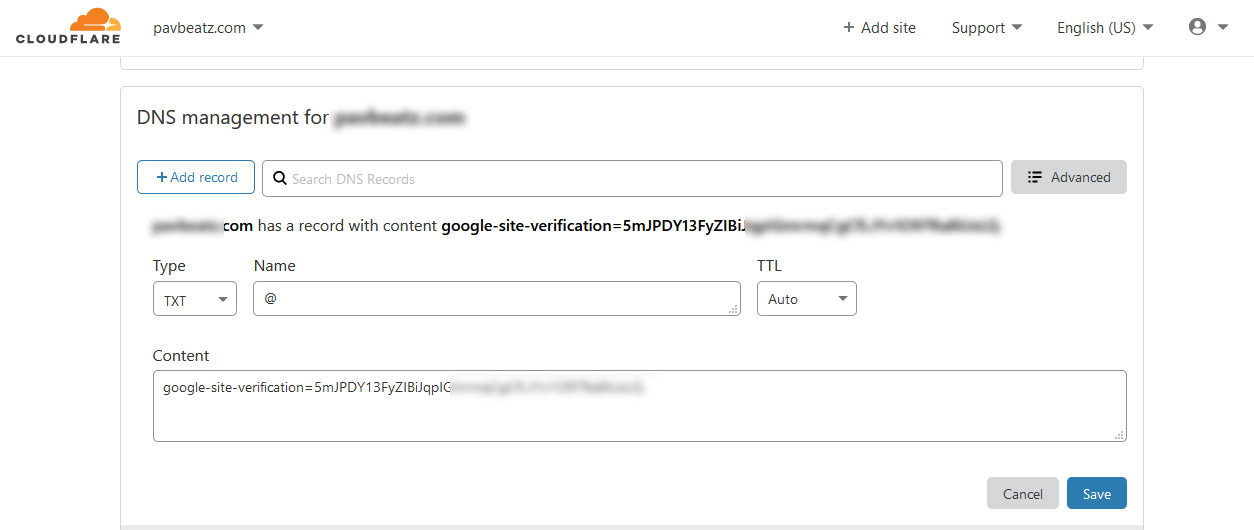 34. Ownership for google search console has been verified, we can now go to step 35 adding our disavow list to our google search console property.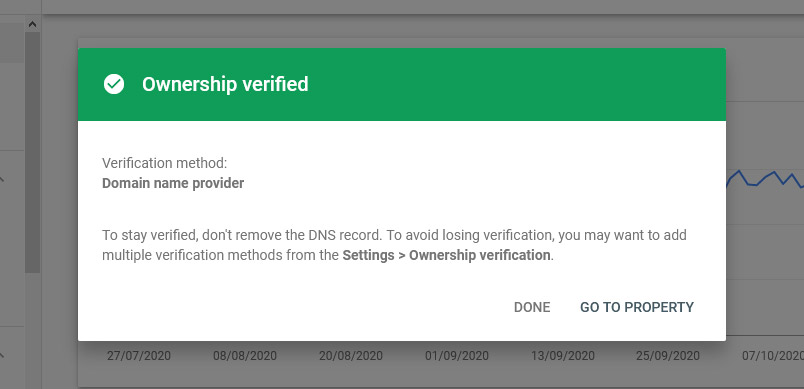 35. Whilst logged in to google search console and successfully activating your account, by using this link here https://www.google.com/webmasters/tools/disavow-links-main you will be able to go and add disavow file to google search console. If you cant see your domain you might have to wait 1/2 days before google picks up all your links and property. Click on "Disavow links" as shown below.
36. Then you will need to click again on "disavow links" as shown below
37. Upload your downloaded TXT file from SEMrush to the google search console, simply select the text file, by clicking on choose file, then once its selected click on submit, this will upload the file to your google search disavow database. And bravo! you have now successfully disavowed all toxic domains linking to your domain and all of your google ranks/traffic should see an improvement within 4 to 12 weeks, this can also take a bit longer depending on how many domains you have submitted.
Congratulations you have now successfully learned how to remove toxic domains from linking to your webiste, how to monitor, and audit your toxic and potentially toxic backlinks using SEMrush. You have learned how to export and upload your disavow file from SEmrush straight into the Google search console.
If you enjoyed this step by step tutorial which took us a whole day to make for you guys, we would appreciate it if you would share this on Facebook or Twitter with your friends and let them know about this cool step by step tutorial on removing toxic backlinks.